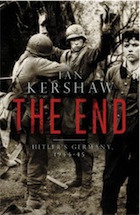 That is if you are an Ian Kershaw fan. I don't know what it is about English historians but when it comes to Hitler and Nazism, I find few competitors. Hey, tell me I'm wrong and then tell me the name of the author! I am a huge fan of Ian Kershaw and own many of his books. Though, one could not go wrong checking out Anthony Read either.
However, all good things must come to an end.
Ian Kershaw's latest book is called The End – and it's the end in more than one sense. Kershaw, biographer of Hitler and anatomist of the Nazi regime, has documented the last nine months of the Third Reich in the book, from the attempt to kill Hitler made by German officers in July 1944 – a coup that would have brought the war to a swift end – to the final capitulation on 7 May 1945, a week after the Führer's suicide. But after about 40 years, he is saying farewell to Hitler, and his next task will be to write the volume on the 20th century in the Penguin history of Europe.
Academically, Kershaw is actually a trained historian in European medieval history and literature. He only began studying and writing about Adolf Hitler and Nazism from his growing interests in German culture. And like all trail blazers he was able to discover new ways to deliver the same subject.
How did he make the switch to the Nazis? "It wasn't a road to Damascus," he says, "but it was relatively sudden. I started learning German with a view to studying the history of peasant revolts in later medieval Europe, but as my German improved I became very interested in what was happening in Germany – it was just after the 1968 student revolutions, there was a lot happening and the Nazi period wasn't that far away – and how it was coping with the legacy of the war."

He spent the summer of 1972 on a Goethe Institute scholarship in Munich, and had a chilling encounter with an ex-Nazi that hardened his growing belief that he should abandon his plan to study medieval peasants and concentrate on his own time. "I met this fellow, and he asked me what I was doing there. He said: 'You English, you were so stupid, you should have been in the war with us. We'd have defeated the Bolsheviks and divided the world up between us.' And he said at one point: 'The Jew is a louse.' I was completely shocked by this, and it made me wonder what went on in this little place at that time. That was the trigger, but I was already on the way."
For those who are fascinated with this era and the absolute tragedy brought about through Hitler and Nazism, Kershaw's insight and talents will be missed.