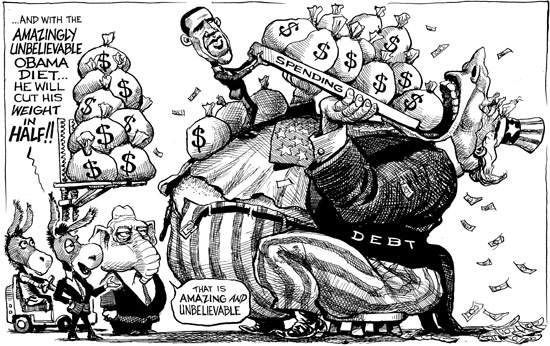 Nope, not more criticism and doomsday speak from the mindless opposition and the Party of No. Quite the contrary, the announcement and, a bit of a revelation, is coming from President Obama. I wonder what gave it away? What is good for Obama is that most of America (those who voted for him) have stopped paying attention and even when they did, knew little about anything involving government or policy. So he will probably get by surprisingly ok considering the news.  Read Classic Values' take as he has been following this trend since before Obama was elected.
The Drudge Report (Via Memeorandum)released the remarks from the president, "We're out of money"
In a sobering holiday interview with C-SPAN, President Obama boldly told Americans: "We are out of money."

C-SPAN host Steve Scully broke from a meek Washington press corps with probing questions for the new president.  SCULLY: You know the numbers, $1.7 trillion debt, a national deficit of $11 trillion. At what point do we run out of money? 

OBAMA: Well, we are out of money now. We are operating in deep deficits, not caused by any decisions we've made on health care so far. This is a consequence of the crisis that we've seen and in fact our failure to make some good decisions on health care over the last several decades.

So we've got a short-term problem, which is we had to spend a lot of money to salvage our financial system, we had to deal with the auto companies, a huge recession which drains tax revenue at the same time it's putting more pressure on governments to provide unemployment insurance or make sure that food stamps are available for people who have been laid off.

So we have a short-term problem and we also have a long-term problem. The short-term problem is dwarfed by the long-term problem. And the long-term problem is Medicaid and Medicare. If we don't reduce long-term health care inflation substantially, we can't get control of the deficit.

So, one option is just to do nothing. We say, well, it's too expensive for us to make some short-term investments in health care. We can't afford it. We've got this big deficit. Let's just keep the health care system that we've got now.

Along that trajectory, we will see health care cost as an overall share of our federal spending grow and grow and grow and grow until essentially it consumes everything…
I'm not sure where or how coming up with the idea of multiplying the deficit four times over and adding a bigger burden on the American taxpayer, businesses, and banks was a good idea. What we needed was financial responsibility and a new way of government doing business. What we got was a classic authoritative Democrat spending spree.  Gateway Pundit offers us some details.
Daily Pundit points  out the very obvious in this interview and Obama's response to the scary deficit.
The most hilarious thing about this report is the notion that CNN hack Scully is being bold and daring by asking Obama these "probing" questions. Actually, Scully is, like most of the Mainly Socialist Media, an Obama penis-puppet of the worst sort. These are softball questions probably handed to him by an Obama staffer (but indirectly and untraceably, of course) that set up Obama's predictably liberal-fascist responses: "Yeah, we're broke because of tax cuts for the rich and not fixing medical care. Therefore, what we need to do is raise taxes on "the rich" and institute socialized medicine.
Bringing up the healthcare debate is a bit odd indeed. He calls it a short term investment? How is it a short term investment when it will be another long term entitlement program by the government, funded by the taxpayer? Ann Althouse has more on that thought.
Read more bad news here, "Dollar hits '09 low on rating fears; stocks dip" 
Fox News: "Fears Grow Over U.S. Losing Triple-A Credit Rating"
Update
No Sheeples Here "This errand boy, sent by grocery clerks, blames the economic meltdown on GM's bad decisions and health care costs rather than government's spending beyond its means."