Things are not going so good in the socialist paradise of Venezuela these days. There are signs showing that Chavez is feeling the pinch of the falling oil prices. He used the windfall profits from surging prices to give away treats and charity to his people at home and purchase support from new allies abroad. 
Last week Citgo Petroleum Corp., ended its program that provides home heating oil to poor U.S. households. However, the falling prices have also relieved heating oil prices and are currently down 60% to around $1.30 a gallon. Because of this the program was no longer needed. But after Joe Kennedy pleaded just days after the news, Chavez reversed his decision.
That, of course, doesn't mean that this program and others like it sponsored by the fearless revolutionless leader are not in jeopardy. And unlike this one, most others will certainly be scrapped. The Wall Street Journal wonders if the cutbacks are a showing sign that Venezuelan leader may have to return to his rickety porch now that the boon is over. 
The move raises questions about whether Mr. Chavez can afford to continue his oil-fueled largess. Venezuela gives cut-priced fuel to many Latin American nations and sends some 100,000 barrels a day of oil and oil products to Cuba in exchange, in part, for the services of 30,000 Cuban doctors, nurses, dentists, and sports trainers. In 2007, Cuba valued total Venezuelan aid at $7.8 billion. Some analysts say Venezuela is now as big a donor to cash-strapped Cuba as the U.S.S.R. was back in the Cold War.

The oil-price slide is likely to crimp Venezuela's spending plans this year. The government calculated its $78 billion budget for 2009 using an oil-price forecast of $60 a barrel, almost twice the current $32.14 a barrel for Venezuela's crude basket.
This will undoubtedly end his home spending spree and greatly curb his overly ambitious, if not foolish, plans to use parts of his windfall profits and cheap fuel to realign the world against U.S. influence. Additionally, he will take a hit in influence in the region as well. Giving and supporting leftist governments in Latin American and abroad, and his own lavish spending on military purchases for the purpose of saber rattling are also likely over. 
Oil has been the life giver to his socialist paradise. The industry alone accounts for 94 percent of exports and half the national budget, it pays for everything from subsidized food to free universities, allowing Chavez to expand the state payroll and nationalize businesses. But since last summer, oil has dropped almost 70%, and a result the country's economic system, which is tantamount to the sweepstakes, is under heavy strain. Annual inflation now tops 32 percent in Caracas, and growth fell by nearly half last year to 4.9 percent, the slowest rate since 2003 with a deficit expected. Since all the industry is nationalized the companies' profits are syphoned directly into paradise. Thus, preventing the industry from any versatility. 
Christian Science Monitor offers this.
Recent news reports have put in doubt whether state oil company Petroleos de Venezuela (PDVSA) can finance planned oil refineries in Ecuador and Nicaragua, two Chávez allies.

"We know that PDVSA doesn't have the cash," said Jorge Pinon, an Energy Fellow at the University of Miami's Center for Hemispheric Policy. "We also know that the financial markets don't have any money to loan. Those projects are not going to be carried out."

Another potential target: the Petrocaribe program under which Venezuela sells 56,000 barrels a day of oil and diesel to some 20 Caribbean and Central American countries under generous terms. The countries have to pay up front for about half of the oil, the rest is to be paid over 25 years.

The program paid dividends in 2006 when the 15-nation Caribbean Community backed Venezuela's bid for one of the 10 rotating seats on the UN Security Council, although the effort ultimately was unsuccessful.

"We are quite confident that Petrocaribe will continue," Ralph Gonsalves, the prime minister of the island nation Saint Vincent and the Grenadines, told McClatchy in an interview. "I specifically raised this issue with Venezuelan authorities recently. I don't see a problem."

Venezuela also sells 15,000 barrels a day of subsidized oil to Central American nations and an unknown amount of subsidized diesel to Bolivia.

The Chávez government also provides some 100,000 barrels a day of oil and oil products to ally Cuba.

Bolivia gets millions of dollars a year from Venezuela for President Evo Morales to hand out to his nation's mayors for new schools, sewer systems, and health clinics. Venezuelan money also underwrites Cuban doctors in Bolivia who perform free eye surgeries, as well as helicopters that ferry Mr. Morales throughout the country.

In all, the oil subsidies and foreign assistance programs are believed to have cost Chávez billions in 2008, although no one has exact figures because the spending is off-budget.
The spigot has been shutoff. Though, Chavez will continue on as if the country can sustain itself as if nothing is wrong. Chavez, campaigning to abolish presidential term limits in February, vows not to cut back on the public spending that has made him popular. Venezuela reportedly has $42.2 billion in Central Bank reserves. So the revolution has resulted in relying on $42 billion in savings? He will likely need every bit of that just to sustain his position at home and cover the projected budget deficits. 
Chavez, has been thwarted by his own rotten socialist structure and still must find ways to stay relevant as a leader who built his support from social handouts, payments, and generous foreign aid.  Now he will have to resort to other less grandiose options. Just before his campaign to end term-limits gets good and underway Chavez announced that he is investigating and may expel a top U.S. Embassy official for allegedly plotting against his government from Puerto Rico. He said their motivation was to prevent him from succeeding in abolishing term-limits. 
I'm investigating the possible presence of a U.S. Embassy official in Caracas at this meeting," said Chavez, without naming the official. "If I confirm it, I will throw him out of the country.

Embassy spokeswoman Robin Holzhauer said the mission's Charge d'Affaires in Caracas, John Caulfield, recently visited Puerto Rico for a wedding. Caulfield is the Embassy's top envoy following Chavez's expulsion of U.S. ambassador Patrick Duddy in September.

"He wasn't there for any sort of clandestine meeting," she said. "The trip had no relation to anyone or anything in Venezuela."

Chavez said the purported meeting is "one more demonstration of how the empire uses Puerto Rico as a base to conspire against the countries of Latin America and the Caribbean."

"One day, Puerto Rico needs to be liberated," he said.
Last week, he banished Israel's Ambassador to Venezuela Shlomo Cohen in response to Israel's actions in Gaza. And later said that the presidents of Israel and the United States should be tried for war crimes in an international court. This received the glowing praises from Iranian President Mahmoud Ahmadinejad.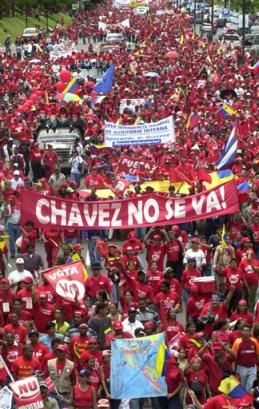 Will this be the beginning of his so-called "21st Century Socialist Revolution?" With more yelping from a bankrupt opportunist without any of the opportunities?